Stripless Blue Film Hard Wax Tablets (Polymer Blend/2.2lbs)
Blue Film hard wax tablets are composed of a unique polymer formula, making them our most flexible wax. Ideal for waxing large areas of the body such as the back, arms, and legs, Blue Film is suitable for all skin types and full body waxing.
These wax tablets have the precise amount of polymer that allows for multiple strip applications if needed and does not crack or break easily upon removal.
2.2lbs/1000g/35oz box
Read more
Read more
FREE US SHIPPING $100+

PROFESSIONAL QUALITY

CERTIFIED & TESTED

100% SECURE CHECKOUT
Hydrates dry skin
Pulls hairs as short as 1 mm
Application at low temperature
No strips needed for removal
Bee's Wax
Microcrystalline Wax
Colofonia
Rosin Ester with Glycerin
Antioxidants
Pigments
Simply warm the wax to 50°C/120°F full liquid form. Then, adjust the temperature to a lower setting and wait approximately 1/2 pot about 25-30 min full pot 40-45 min. Test wax's temperature on wrist before application. For best results, prep your skin for waxing using Starpil Prepil gel. Apply wax in the direction of hair growth firmly. Leave to cool, then firmly peel off wax, pulling it back in the opposite direction of the hair growth.
Customer Reviews
Write a Review
Ask a Question
Filter Reviews:
products
Starpil
shipping
Ohio
company
skin
experience
brand
mess
waxes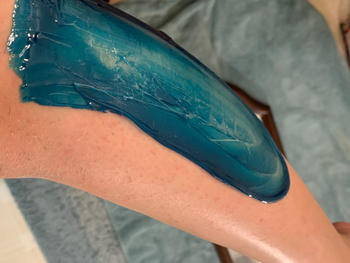 07/02/2020
I recommend this product
Amazing
I am a beginner and this made it so easy for me. I have use other waxes before and it was a mess. With this brand it was the most easies experience ever. Love it.
Anonymous
United States
07/07/2020
I recommend this product
Best hard wax ever!
First using this wax myself and I must say it's awesome. It's easy to use and it's painless. Way less easier to use than the sugar method.
Victoria G.
United States
07/03/2020
I recommend this product
Love this wax
Super easy to use. Leaves skin smooth with no bumps.
Riana R.
United States
06/03/2020
I recommend this product
Did not receive what was pictured
When I received the packaging the name was completely different. In a different language. Wax was breaking and falling apart but majority of the tablets were in tact upon opening. I'm still learning how to properly maintain consistency when waxing. It tends to thicken too fast when i lower the temperature just a bit. & This seems to be really stringy. Made a complete mess compared to a more affordable brand off of amazon. However, i like that this brand doesn't give off a horrible chemical smell that the amazon purchase did. Overall, it did a mediocre job. Will not wax fine thin hairs. Left behind hairs on a Brazilian and legs. Really patchy jobs. I say this knowing pressure needs to be applied when applying wax.
Anonymous
United States
06/02/2020
I recommend this product
Great wax
First time buying Starpil and I love it
Anonymous
United States
05/19/2020
I recommend this product
Love it.
Great product, it works for me and it is better than the other brands I have purchased.
Viviana H.
United States
03/15/2020
Love it
It's great just like beads
heather a.
United States
01/30/2020
It doesn't get any better
My business staple wax!
Nakeisha S.
United States
09/12/2019
I love it .
I love this wax !!!! It's very flexible
Sharice A.
United States
08/16/2019
I absolutely love this
I love Starpil products, since I live in Ohio I complain about the shipping but that won't stop me from buying .. product works very well, I don't see myself ordering from any other company
Jada R.
United States