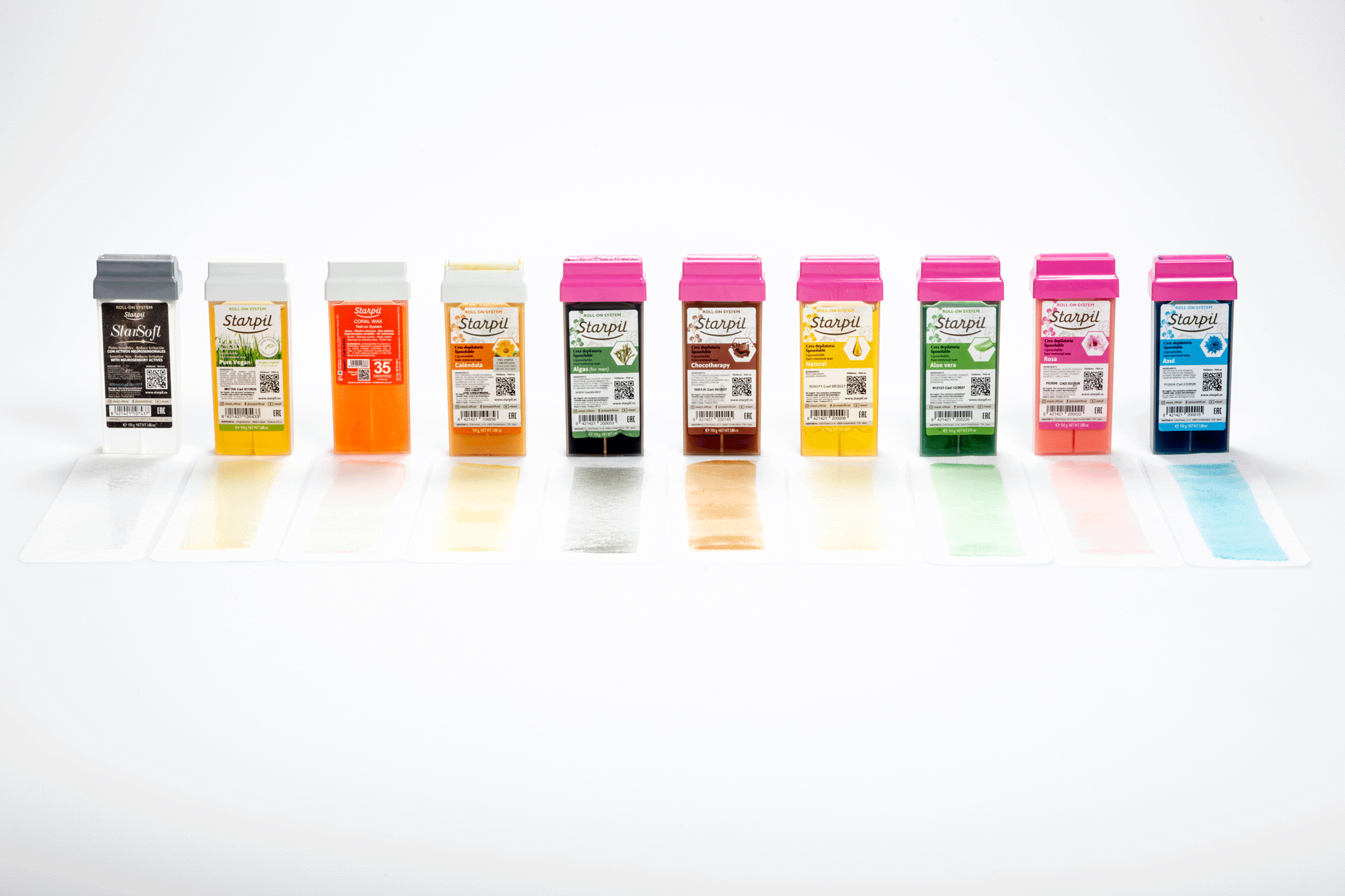 The Best Professional
Roll-On Wax
Thousands of estheticians and waxers like yourself trust our products to deliver quality results.
Starpil's roll-on wax system is the ultimate ultra-hygenic, easy-to-use waxing system. This wax, originally patented by Starpil in 1991, eliminates the risk of cross-contamination and cuts waxing service times in half while yielding amazing results ...
Thousands of estheticians and waxers like yourself trust our products to deliver quality results.
This portable system allows users to not handle any wax directly and its single-use cartridge lets estheticians dispose of wax easily after every single client visit. This wax is applied at low temperatures for maximum client comfort and is ideal for speed waxing and removing hair from large areas like the legs, back, chest, and arms.
The Standard for Professional Waxing

Waxing Efficiency at its Finest:
Make your waxing more efficient with swift applications and impeccable results.

Profit-Boosting Excellence:
Elevate your business potential with products that not only retain clients but also enhance the value of each service.

Quality Meets Performance:
Every Starpil waxing product is crafted for superior performance so you can wax with confidence.
Roll On Wax Benefits
Roll-on wax makes hair removal easier and more efficient than ever. Roll-on wax warmers heat wax in 30 minutes and provide 30 minutes of cordless use for easy, efficient, and convenient services.
These single-use cartridges provide next-level hygienic services and cut out the risk of cross-contamination. Starpil's large range of formulas also allows you to give clients of all skin and hair types the best hair removal possible.
Bundle Your Roll-On Wax
Step up your waxing game with Starpil's range of Roll-On Waxing Kits. By choosing to bundle, you equip yourself with a curated selection of essentials tailored to your needs. Each kit includes a roll-on wax warmer, pre and post-wax care, wax strips, and premium roll-on cartridges. 
The result? An upgraded waxing experience, designed to maximize efficiency and service speed. With multiple roll-on kits to choose from, finding the perfect match for your services has never been easier. Embrace convenience, elevate client satisfaction, and redefine efficiency with roll-on wax.

Unsure about which waxing products are best for you?
Schedule a free consultation with one of our experts so they can guide you to finding the perfect waxing products tailored to your business needs.

You can also take our Product Matcher quiz to discover the best that Starpil has to offer.
FAQ'S
Roll-on wax is a soft wax system that comes in single-use, portable, and easy to use cartridges that allow users to wax without any spatulas, or any mess - and in half the time of a regular waxing service! Roll-on wax cartridges are best used for large bodily areas.


To use a roll-on wax cartridge, first prep the skin with Starpil's Pre Wax Gel. Then, once the cartridge is heated to the appropriate temperature, apply the roll on directly to the desired area of the skin at a 45 degree angle in the direction of the hair growth. Press the strip to the wax and smooth evenly before quickly removing it in the opposite direction of hair growth.


Only heat your roll-on wax cartridge using a roll-on wax warmer. Using a microwave or other method to heat up your roll-on wax can be dangerous and is not recommended.

Roll-on wax cartridges are not reusable or refillable and are meant to be disposed of following a waxing service.