Stripless Black Film Hard Wax Beads (Polymer Blend/600g)
Are you a barber or body waxer?
Then this hybrid Black Film Hard Wax is your solution to hair removal!
This polymer formula is great for precision waxers and is highly effective on coarse hair. This new formula traps hair like no other as hair grips tightly to the wax making your tug effective.
Delicate areas? No problem! Black Film Hard Wax caters to all skin types - even sensitive and mature skin. This wax will leave your clients feeling smooth and exfoliates skin with lasting results.
FREE US SHIPPING $100+

PROFESSIONAL QUALITY

CERTIFIED & TESTED

100% SECURE CHECKOUT
Customer Reviews
Write a Review
Ask a Question
Filter Reviews:
shipping
skin
experience
hair
color
pink wax
quality
trouble
wax pot
waxing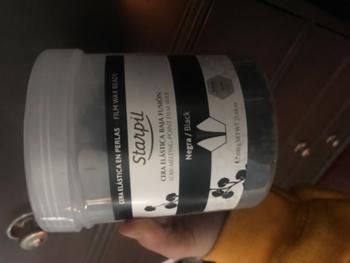 02/17/2020
Perfect wax
Omgggg must buy , this is by far the best wax I have ever tried . Legit amazing
Anonymous
United States
07/03/2020
Anonymous
United States
06/05/2020
I love this wax!!!!
I had been hearing about this wax for some time now and wanted to see what the hype was and I must say I was so impressed. The consistency of the wax is amazing, it really adheres to the hairs well. I find that I don't have to go over an area multiple times which is a plus. I have to say that this is my new fav!!!
06/03/2020
Best wax ever
I absolutely loved this wax.. as a first time wax user this wax was super easy to handle and not painful at all!
Anonymous
United States
06/02/2020
Great wax!
I purchased the Black and pink wax, and I must say I am liking the Black wax more. To me, it has a slight thicker consistency, but I like it. It spreads well and so far, it seems to be pulling more hairs than the pink wax and doesn't break as much. Not saying the pink wax is bad, but I like the Black wax better. I would recommend trying this wax!
Anonymous
United States
05/19/2020
Pretty good
I had trouble with the contrast of another color on my skin: it was too similar! This one is perfect for seeing the wax.
Elizabeth L.
United States
05/15/2020
Black wax
I bought this wax on a Tuesday and it was here by that same Friday! Shipping was fast. The overall experience with this wax is LOVE!!!! I had a great experience with this wax and I am currently about to order more. It missed a few hairs but I think that was because I am a newbie at waxing. I was able to go back and get the missed hairs. Great experience!
Jasmine
United States
05/07/2020
I love this wax !!
I love how smooth it is and how nicely it lays down on the skin. It attaches to the hair amazingly . I love this wax it will always have a spot in my wax pot
Jordan I.
United States
05/06/2020
The best wax ever!
I absolutely love this product ! I have waxed legs, underarms and done Brazilians with this picks up everything.
Monica M.
United States
05/06/2020
OMG!!!!!!!
THIS IS BY FAR THE BEST WAX I EVER PURCHASED. IM SO HAPPY I BOUGHT IT I WILL DEFINITELY BE BUYING THE BIGGER SIZES. NO COMPLAINS WHAT SO EVER! IM AMAZED.
CAM
United States
05/06/2020
Black film wax
I got this wax with my wax warmer and I have to say I was amazed with the results. I did underarms, Brazilian and legs with this and it picked up everything!
Monica M.
United States
05/06/2020
Fast shipping - easy transaction
Overall it was great - it's always great with Starpil - never have had an issue, and I found a coupon code for free shipping which helped immensely! 10/10 would and will buy from them again.
Anonymous
United States
05/05/2020
I love this wax!
I love this wax!! It does not stick like other waxes and I don't make a mess while waxing, super easy to peel off and does not hurt that much!
Ana C.
United States
04/23/2020
Worth it !
Great quality, even for coarse thick body hair!
Charlot R.
United States
02/21/2020
Best starpil wax thusfar
This wax was my favorite wax in consistency, texture, everything. it pulled out about 90% of the hair. I've tried blue hard wax and the pink , which i had really liked the pink one until I got my hands on this black wax, I used for my man thick full beard and for my thin hair on my legs and arms. Loved it and will be ordering again and again!
Ginna P.
United States
02/20/2020
Nice new product
Nice formula, seems to dry quicker than other polymer blends
Nakeisha S.
United States
02/19/2020
Excellent
I love using this wax especially for my Manzilians it gets the hair off with the first strip on those difficult areas works great! I use it for Brazilians as well.
Michelle
United States
02/18/2020
Love the black wax!
This is by far the best wax I've found. I love it so much better than blink too! Can't wait until you guys restock and sell larger quantities.
Anonymous
United States
02/17/2020
I was skeptical, but tried anyway...
I used the new black film wax today for a bikini wax, and I was very impressed! I also used it for underarms on a new client, and found that I did have to go over the area twice, but it was very pliable and easy to remove. I like the elasticity of this wax. Will definitely purchase a 5lb bag.
valorie m.
United States
02/14/2020
Best wax
I really love this wax!! Works amazing!
Anonymous
United States