Stripless Blue Film Hard Wax Beads (Polymer Blend/600g)
Same great blue film wax formula now available in a 600g mini tub.
Ideal for legs and facial waxing, our most elastic formula yet extracts hair from the root and is made with a fast cooling formula, allowing it to be applied at a low comfortable temperature. This blue film wax is suitable for all skin types. 600g/ 22oz mini tub
Read more
Read more
FREE US SHIPPING $100+

PROFESSIONAL QUALITY

CERTIFIED & TESTED

100% SECURE CHECKOUT
Less painful than strip wax
Application at low temperature
No strips needed for removal
Pulls hair from the root for delayed growth
CoPolymer
Colophonium (Rosin) Glyceryl Rosinate
Beeswax
Cera Alba Microcrystalline wax
Paraffin
Peg-3 Dirosinate
Ethylene/VA
BHT
Mineral Oil
Heat wax to 50°C/120°F to produce a honey like texture. Lower temperature to lowest setting and wait 10 minutes. Test wax's temperature on wrist before application. For best results, prepare your skin for waxing using
Starpil prepil gel
. Apply wax in the direction of hair growth. Leave to cool, then firmly peel off wax, pulling it back in the opposite direction of hair growth.
Customer Reviews
Write a Review
Ask a Question
Filter Reviews:
Starpil
Brazilian
cloth strips
customer service
girlfriend
pink wax
blue beads
⭐⭐⭐⭐⭐
underarms
Melts
04/27/2020
I recommend this product
"Blue Magic"
Melts quickly, spreads easily and dries fast. Love it!
Christian M.
United States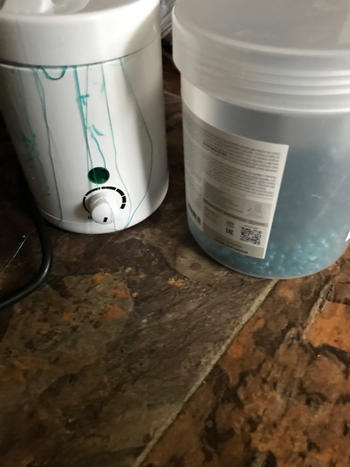 06/17/2020
I recommend this product
Cool!
it was very painful on the legs but overall effective on my bikini area, underarms, lower back and stomach. I literally used the whole thing in one day on just those areas but two containers of this wax can do for a full body wax!
Bianca J.
United States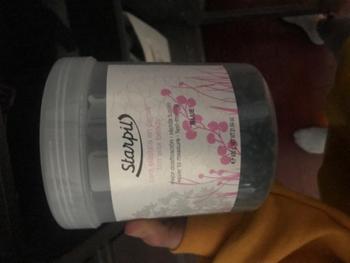 02/17/2020
Excellent
Loved this wax , it went on so easy and took the hair right off , would definitely recommend
Anonymous
United States
09/09/2020
LOVE LOVE LOVEE
I love this wax. it heats up so fast and leaves my clients clean
shea
United States
09/02/2020
Amazing!
This wax of overall the best wax I have ever used! Will purchase again
Anonymous
United States
08/15/2020
Best wax
Best wax I've found for Brazilian
Anonymous
United States
08/03/2020
Love this Wax!
Easy to use, absolutely amazing for the client! Very useful and lasts forever!
Melissa C.
United States
07/24/2020
Beet wax
I love this wax because it gets just about everything first strip & it's Painless!
Ebony
United States
07/03/2020
Excellent
Hair removal was a breeze with this wax. Love it! Love it!
Petal W.
United States
07/03/2020
Amazing!
I love this wax so much I cannot even imagine using any other wax.
Anonymous
United States
06/12/2020
Julia
United States
06/05/2020
great!
will definitely repurchase!
06/04/2020
Great for course hair!
This wax is perfect for leg, chest or underarm waxing! I love the consistency of this product and its application. Can't wait to try starsoft for more fine hair and sensitive areas!
05/24/2020
LOVE this wax
Best wax I've ever used!
Diana
United States
05/05/2020
First waxing at home
Generally good experience as this was my first time waxing using hard wax at home. It takes about 60mins to warm aprox 300g of the beads and once I got the technique it removed hair easily and painlessly on my legs. Although any tips on waxing the back of ones own legs would be much apprecoated.
Anonymous
United States
05/04/2020
Best wax ever
Starpil has hands down the best wax! I Have the most stubborn underarm hair and the blue film hard wax removed it so easily! I didn't have to go over the same spots over and over which saved a lot of time! HIGHLY recommend!!
Anonymous
United States
05/04/2020
Best purchase i've made !
I decided to buy this and the facial warmer instead of going to my usual waxer every 3 weeks for my Brazilians & i am in love ! Will be purchasing another tub of blue beads when mine is done.
Gabriela c.
United States
04/22/2020
Blue Hard Wax
Really liked it. The wax was painless overall, would buy again!
Brenda C.
United States
02/13/2020
Looooove the elasticity!!
I love the flexibility and pick up. I can lay 3-4 strips and waaaalaaa! Talk about efficiency
Nakeisha S.
United States
01/08/2020
Great product and customer service
The customer service is wonderful, Ivette was very helpful in assisting me with my order. I love this wax, much better than the Gigi stuff I used to use with cloth strips. This is less messy and it does not irritate my skin as much.
Anonymous
United States