Standard Professional Hard Wax Kit (Small Pre/Post Wax Care)
Set the bar high with the Standard Professional Hard Wax Kit. This warmer holds 1lb capacity of hard wax, and is perfect for licensed estheticians ready to take on full-body waxing services. 
This Kit Includes:
Your choice of Hard Wax
Pink Film Beads, Blue Film Beads, Black Film Beads, Blue Film Tablets, OR Starsoft Clear Tablets

Your Standard Professional Wax Warmer 
1lb. Capacity - Intended for Hard Wax Use

Wooden Spatulas
100 ct. of both 4.5 & 6-inch Spatulas

Pre & Post Wax Care Bundle
6.76oz Pre Wax Care Gel
6.76oz Post Wax Care Lotion
6.76oz Post Wax Care Oil
Read more
Read more
FREE US SHIPPING $100+

PROFESSIONAL QUALITY

CERTIFIED & TESTED

100% SECURE CHECKOUT
Ideal for businesses, students, & professionals.
Includes the essentials for professional waxing.
No strips needed for wax removal.
Wax applied at low temperature.
Blue: Soothing wax for all skin types with azulene. Starpil's most flexible formula.
Green: Unique vegetable extracts composition, suitable for all skin types.
Natural: Great concentration of beeswax, ideal for facial areas, also full body.
Pink: Creamy formula ideal for waxing large areas like legs & back. Great on dry skin.
Purple: Perfect for working with sensitive areas and large areas of the body.
Chocolate: Cocoa extracts, antioxidant properties, & creamy composition.
Place wax beads or tablets into a standard wax warmer.
Heat wax to 50°C/120°F to produce a honey-like texture.
Lower warmer temperature and wait ; approximately 25-30 min. for a 1/2 pot or 40-45 min. for a full pot
For best results, prepare your skin for waxing using Starpil Prepil Gel.
Test wax's temperature on the wrist before application.
Apply wax in the direction of hair growth.
Leave to cool, then firmly peel off wax, pulling it back in the opposite direction of hair growth.
Finish by applying the Post Emulsion Oil for best results
Customer Reviews
Write a Review
Ask a Question
Filter Reviews:
Everything
wax machine
hair
consistency
wax pot
esthetician
trash
solution
residue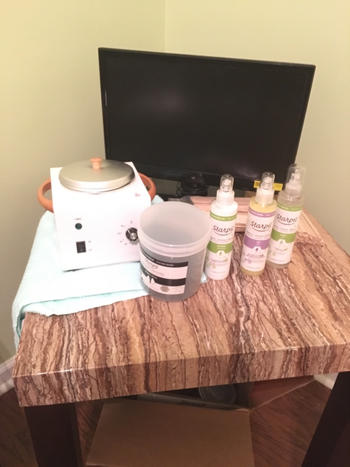 04/20/2020
I recommend this product
Great
Great excellent product works perfect. I am so glad I got the black wax for my facial hair and wax machine!!
Anonymous
United States
04/24/2020
I recommend this product
I just hate the wax that this comes with...
I am a newly licensed esthetician I wanted to purchase a wax kit to get me started. It came with this great little wax pot and pre solution and two post solutions. I love everything about this except for the wax it came with. The wax was definitely cheap it kept breaking it was difficult to get it to the right consistency and it left a lot of residue. After getting better wax I'm in love with everything else in the kit ! Just be sure to know that the wax that you get with this is absolute trash.
Anonymous
United States
04/24/2020
I recommend this product
Love it!!!
Honestly it took me a while to get a hang of it. But i did it. Even though I almost finished the wax lol. Totally worth it!
Zayra M.
United States
04/23/2020
I recommend this product
Amazing
I loved the wax! Definitely going to be purchasing more in the near future.
Anonymous
United States
04/22/2020
I recommend this product
Awesome Product
It was a great experience. Love it so much! Thank You!
Guadalupe M.
United States