Professional Waxing Kits 
Starpil's professional waxing kits are made for licensed pros, students, and beginners in search of the smoothest and most convenient waxing experience available.
Whether you're looking for a waxing kit for your business or personal use, we have options for every need and budget.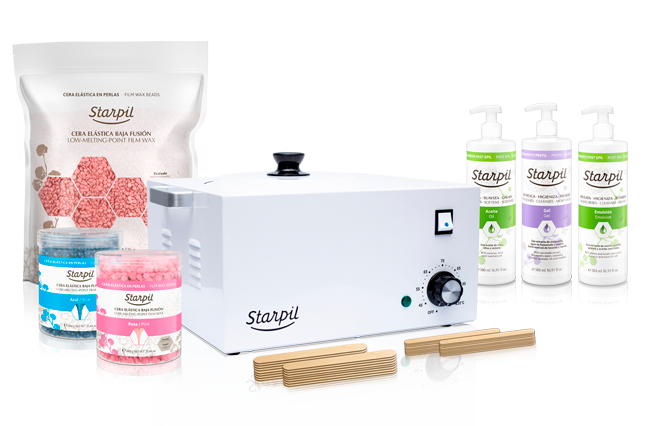 BENEFITS OF BUYING A WAXING KIT
Purchasing a waxing kit means saving money while stocking your business with products ideal for your specific waxing needs and services. 
Our professional waxing kits allow users of any skill or experience level to cater to the needs of any client, and allow them to have all of the resources for complete, successful waxing services without fear of missing any important details. 
WHAT COMES IN A WAXING KIT
- Wax
- Warmer
- Pre & Post Care
- Spatulas
FAQ's
To determine if a waxing kit is right for you, assess what your waxing needs are. If you are an esthetician with a high volume of clients, go for a kit with a larger sized warmer paired with the wax that you prefer. If you're an at home user who only waxes specific areas, look for kits that cater to those needs, like our Facial Waxing Kit.

Your ideal waxing kit is curated based off of what kind of wax you prefer using, how much it is used, and how often. If you are a professional esthetician who has a high volume of clients, go for one of our larger sizes. If you are a student or at home user, go for a waxing kit that isn't as large.

We recommend our Facial Waxing Kit, our 2lb waxing kit, or our Standard Waxing Kit for beginners to ensure ease of use and the best waxing service.

For estheticians, we recommend our 5lb, 10lb, or roll-on wax warmer kits, due to their ability to house a high volume of wax and work at a professional level.

Our hair removal waxing kits are very simple and easy to use, no matter if you're a professional or a first timer! Instructions are included with every one of our kits to ensure their ease of use.