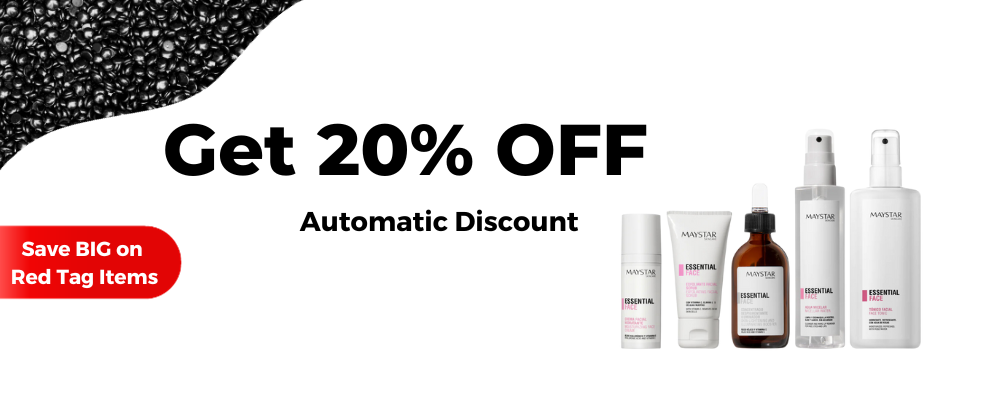 Maystar Essentials
Maystar's essential skincare range works to rebuild and revitalize skin. With so many different skincare products out there, it can quickly become overwhelming to find the right daily skincare routine that suits you....
Maystar skincare is designed to address skin types and conditions with an informed approach that will allow its high-quality ingredients to speak for themselves - and through their unparalleled results.
FACIAL SKINCARE
Facial skincare is a top priority for professionals and clients everywhere, and for good reason!
Having the right essential skincare items with the best ingredients to keep your skin feeling as good as it looks will allow you to feel more comfortable and let your skin constantly be in its best shape.
Whether looking for professional or at-home products for the best facial care, Maystar has just the right products for you.
BODY SKINCARE
Keeping your body's skin moisturized and well-nourished will benefit you in both the short and long term.
After all, it's important not only to stave off the effects of aging with the right care but also make a world of difference in giving you a little extra boost after a long day (or long week!).
Explore the best in daily bodily care plus products to give yourself a little extra pampering with Maystar Essentials.
PRO SKINCARE
As a professional esthetician, your top priority is to leave your clients' skin looking and feeling its best - and to give them the education and tools they need to care for their skin the right way.
See what our entire range of products can do for you and your clients inside and outside of the salon - or mix and match to create the perfect everyday skincare routine that provides solutions to all of your skincare dilemmas.
Whether inside or outside of the salon, give clients the products they need to leave skin consistently supple, clean, and bright.
FAQ's
Maystar Skincare is Starpil Wax's parent company, which creates the most high-quality, imported daily skincare products to make estheticians and clients' skin alike look and feel its best.
Essential skincare by Maystar consists of a wide range of daily skincare essentials that allow users to rebuild and revitalize their skin at a basic level.

When using Maystar Essential Skincare as part of a daily routine or as part of a professional regimen, you'll see consistently great results.


Essentials Skincare is for those who are looking to revamp their daily routine and rebuild their skincare from the inside out. From our daily cleansers and moisturizers to intensive body creams, you'll be able to enjoy consistent results you'll love.


A good skincare daily routine consists of a cleanser, daytime and nighttime moisturizer, sunscreen, and an exfoliator used 2-3 times per week. Incorporating Maystar Essentials into your daily routine will let your skin feel as good as it looks every day!


Because oily skin has many different causes and roots depending on genetics and environment, there's no one treatment for this skin type. However, incorporating Maystar Essentials Oil-Balance Facial Moisturizer and Oil Balance Treatment Gel into your routine can help with excessive oil production.

Looking for more in-depth tips for treating oily skin? Explore our complete resources regarding this skin type.