4.5" Wooden Wax Spatulas
The perfect size spatula for small & facial areas! Our 4.5" wooden spatulas are designed with smooth beveled edges to be gentle on delicate skin. Shaped like a pen for easy eyebrow waxing, they are also great for waxing nose hairs. For use with our stripless hard wax and strip soft wax. Available in 100, 500, and 1000 ct. packages.
We've got the magic wand for working on small to medium areas on the face and body. Starpil 4.5" Wooden Wax Spatulas are professional-grade waxing applicators made of sustainably sourced wood. They are exactly what you need in terms of thickness, length, and strength to give you the perfect grip for any service type. Each stick is smoothed down until it's soft to the touch for a comfortable hold and application. Their beveled edges are slightly rounded for added safety and an even wax spread.
Use these wax spatulas on anything from a lip or side face wax to underarms and bikini-line touch-ups. Its size and shape give you multiple ways to dab and spread for accurate and even hair removal. It's literally the backbone of your services and gives support no matter how thick you like to apply hard or soft wax. There's no bend and snap action here because this is a waxing spatula that can hold its own.
WHY YOU'LL LOVE THEM
Perfect shape and size for small to medium wax applications
Can be used on the face and body
Smoothed with rounded edges for added safety and comfort
Offers accurate placement and even spreading over small to medium-sized areas
Sturdy and firm, won't bend or snap on hard or soft wax
Sustainably-sourced, all-natural wood
Available in 100, 500, and 1000-count packs
BEST FOR
Facial-waxers and brow gurus
Hard or soft wax lovers
Body waxers providing flawless touch-ups or detailing
SERVICE AREAS
Facial Waxing: Eyebrows, nose, ears and lip.
Body Waxing: Fingers and toes.
Sensitive Areas: Underarms, bikini line, and Brazilian waxing detailing
PRO TIPS
When doing brows, hold the spatula like a pencil pointed toward the face. Dab the skin with the wax, then start to push the wax in short bursts at first instead of immediately going on a straight path. Reposition your hold only after you see how thick the spread will be and assure only the hairs you want to remove will be in your path. That's when you can spread it in an even line.
Once you use this size wax applicator for a nose wax, you will never go back. Create a nostril-sized wax bulb and center the stick. Put the entire bulb into the nose and let wax set while doing the same to the other nostril. Once they're both ready, grip as close to the nose as you can get; remove the first stick in a fast and hard pull, then the other. This should get all hairs on the entire circumference of each nostril.
4.5" Waxing Spatulas
Biodegradable bamboo
Available in 100, 500, and 1000 ct. packs
Use the top rounded point for dabbing, detailing and spreading smaller lines of wax.
Use on the long, thin edge for spreading and smoothing on lips, side face, or underarms.
FREE US SHIPPING $100+

PROFESSIONAL QUALITY

CERTIFIED & TESTED

100% SECURE CHECKOUT
Customer Reviews
Write a Review
Ask a Question
Filter Reviews:
ones
quality
waxing
areas
test
waxing spatulas
beads
guys
face
experience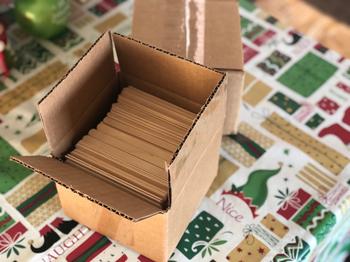 11/30/2020
I recommend this product
Good!
This 4.5" spatula is the perfect size for your face and other small areas. The quality is much better than regular craft sticks.
HaeRee L.

United States
12/03/2020
Starpil Wax USA
Thank you! We're so happy you're loving your new Starpil products.
09/17/2021
I recommend this product
Amazing!
The 4.5" Wooden Wax Spatulas are the perfect size to wax facial areas, they're also very sturdy and have never broken!
Nadia M.

United States
04/05/2021
I recommend this product
Great quality
They don't break while using them and they are super smooth so you don't have to worry about splinters!!
Anonymous

United States
02/23/2021
I recommend this product
New Esthetician.
I'm a new esthetician, and these products are the best that I've come across! It was such an easy process and fast shipping. Thank you guys for a great experience.
Andrena S.

United States
01/23/2021
I recommend this product
sturdy wooden wax spatulas
Feels much sturdier than the previous ones I have used. Worked just fine.
Anonymous

United States
08/06/2020
I recommend this product
Love!!
Perfect for facial waxing!! Durable and easy to use!
Cristina S.

United States
08/02/2020
I recommend this product
Feeling Confident
Knowing that I purchased great quality tools to help me with my waxing services makes me feel confident. The quality of your waxing spatulas is the best!!!! Unfortunately I've tried cheaper ones but they didn't stand the test. Thank you
Katty H.

United States
07/03/2020
I recommend this product
Pleased
Great! Very sturdy, don't have to worry about spatulas snapping
Ashlee B.

United States
05/19/2020
I recommend this product
woodsticks
I LOVEEEEE THEM !
Anonymous

United States
05/06/2020
I recommend this product
perfect for facial waxing
The wax sticks are great for facial waxing. They're small enough to work around the eyebrows and mustache. I even used these for the armpit.
Sasha

United States
01/21/2020
I recommend this product
Facial waxing kit
I love my new facial waxing kit I ordered with pink hard wax beads and the pink hard wax is easy on my sensitive skin. I wish they make it so I could change out the metal cup, for when I want to use different color wax. I can't wait to try the new black wax.
Luz N.

United States