Portable Folding Spa Bed/Waxing Table
Our Portable Folding Spa Bed is ideal for estheticians, waxers, masseuses, and therapists. This high-quality precision-crafted spa table is made with hard maple from carefully managed forests.
It features 3 full sections of high-density luxury padding, to ensure the utmost comfort for your clients!
Whether you're a facialist, massage therapist, still a student, or a waxing aficionado, the adjustable, portable, and foldable spa bed is here to meet your needs. This professional-grade spa table is easy to set up and opens to reveal a removable face cradle or head and armrests. The adjustable legs pull out from 23 inches/58cm to 33 inches/83cm with a few twists of the adjustment knobs. It also comes with an attachable swing hand palette to place your products. This is a versatile table that can facilitate different positions for your client. The bottom half elevates and can be used as the backrest while you wax your client's lower half.
The Starpil Spa Bed is crafted with wood from sustainably managed forests and three layers of high-density, luxury padding, and PVC leather. Take this spa bed anywhere or leave it stationary and tuck it away as needed. It's straightforward to set up and break down, which is excellent for taking clients at home. Able to hold over 300 pounds, the pristine workmanship and quality materials of your new waxing table will be the ultimate in durability and comfort for you and your clients.
WHY YOU'LL LOVE THEM
Full-size spa, waxing, or massage table with a 12-month limited warranty.
Deluxe adjustable headrest with matching crescent cushion.
Removable armrests.
Heavy-duty, foldable and portable.
Compact armrest sling for client comfort
Available in black or white, with or without paper holder bar
WHO'S THIS FOR?
Professional waxers and busy salons
Massage therapists
Facialists
Students or esthetician schools
ALL THE BELLS AND WHISTLES
Face Cradle
Arm Rests
Handles
Swing Hand Pallet
Adjustment Knob
PRO TIP
Keeping your spa table at the correct dimensions to avoid hurting your back is critical. Depending on what type of waxing you specialize in, you might have to play with the height a bit before you get it perfect. First, try putting the table height to align with your knuckles. To measure the distance, close your fist and bring the tape measure from the floor to your knuckles.
Materials: Beech Wood Leg + Composite Board + Cushion (Plywood + Non-woven Fabrics + Sponge + PVC )
The Thickness of Sponge: 5cm/2inch
Unfold Size: 213 x 82 x 64-85.5cm/83.9 x 32.3 x 25.2-33.7 inches (L x W x H)
Folding Size: 92.5 x 60 x 18.5cm/36.4 x 23.6 x 7.3 inches (L x W x H)
Headrest Size: 28 x 26.5 x 7.2cm/11 x 10.4 x 2.8 inches (L x W x H)
Armrest Size: 35 x 11 x 5cm/13.8 x 4.3 x 2 inches (L x W x H)
G.W.: 15.2kg/33.5lb
Max. Load Bearing: 250kg/551.2lb
Weight: 33 - 34 lbs
Width: 30"
Length: 73"
Height Range: 23" - 33"
Max Load Bearing: 350 lbs
*There are no tools needed to set up your waxing table.
Unzip the table and pull it from its case.
Partially open the case to reveal the bed legs and accessories inside.
Pull the legs out and adjust them to your ideal height you need.
Place a headrest, hand pallet, and two armrests into position as desired.
FREE US SHIPPING $100+

PROFESSIONAL QUALITY

CERTIFIED & TESTED

100% SECURE CHECKOUT
Customer Reviews
Write a Review
Ask a Question
Filter Reviews:
table
Everyone
clients
shipping
Starpil
sugar hair removal
husband
foundation
touch
logo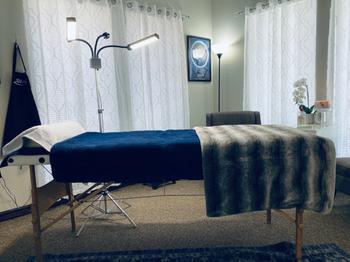 01/17/2020
I recommend this product
Why Didn't I Buy Sooner?!?
Having the folding spa bed has seriously made my services so much easier in a few different ways. The bed has has a comfortable padded base, extremely sturdy for my clients that move a lot or that have to turn. Coming from a mechanical medical bed that had contours my bed often didn't fit everyone's body contours the same, causing some discomfort. That is all gone now! I now have a wider foundation allowing for many clients to have a comfortable experience that FITS THEM! Not to mention how beautifully sleek the table is with the added touch of the Starpil logo!
Cara E.

United States
05/04/2021
I recommend this product
Perfect delivery
Easiest Set up ever !!! I would lay on bed when waiting for next client.
Alexis H.

United States
05/17/2021
Starpil Wax USA
#EsthieLife #CozyLife So happy to know you're loving your new Starpil Waxing Bed.
05/03/2021
I recommend this product
Very pleased
Very pleased with the facial bed, extremely comfortable I've heard by may clients very easy and manageable set up and take down I would recommend this if you are looking for a portable table extremely happy with this prod and the lead time✨Thank you
Jenimah S.

United States
03/19/2021
I recommend this product
Massage Bed
My item came so fast. I ordered it on last Thursday and received it on Sunday afternoon. I was very pleased with the shipping and process. I will be ordering again.
Anonymous

United States
01/11/2021
I recommend this product
Portable folding spa bed
So far it's been amazing I've waxed my husband and my daughter on it. They said it's comfy.
Jennifer R.

United States
10/02/2020
I recommend this product
So comfy
The table itself is so comfy , it's nice and wide and feels sturdy and safe . I do sugar hair removal and have a variety size of clients so far everyone has felt safe and comfortable!
Anonymous

United States
07/07/2020
I recommend this product
Nice bed
Fast shipping but my bed arrived marked up like it was used
Desi N.

United States
12/06/2019
Bed with paper holder
Paper hold feels cheaply made but I absolutely love the bed
Samantha J.

United States